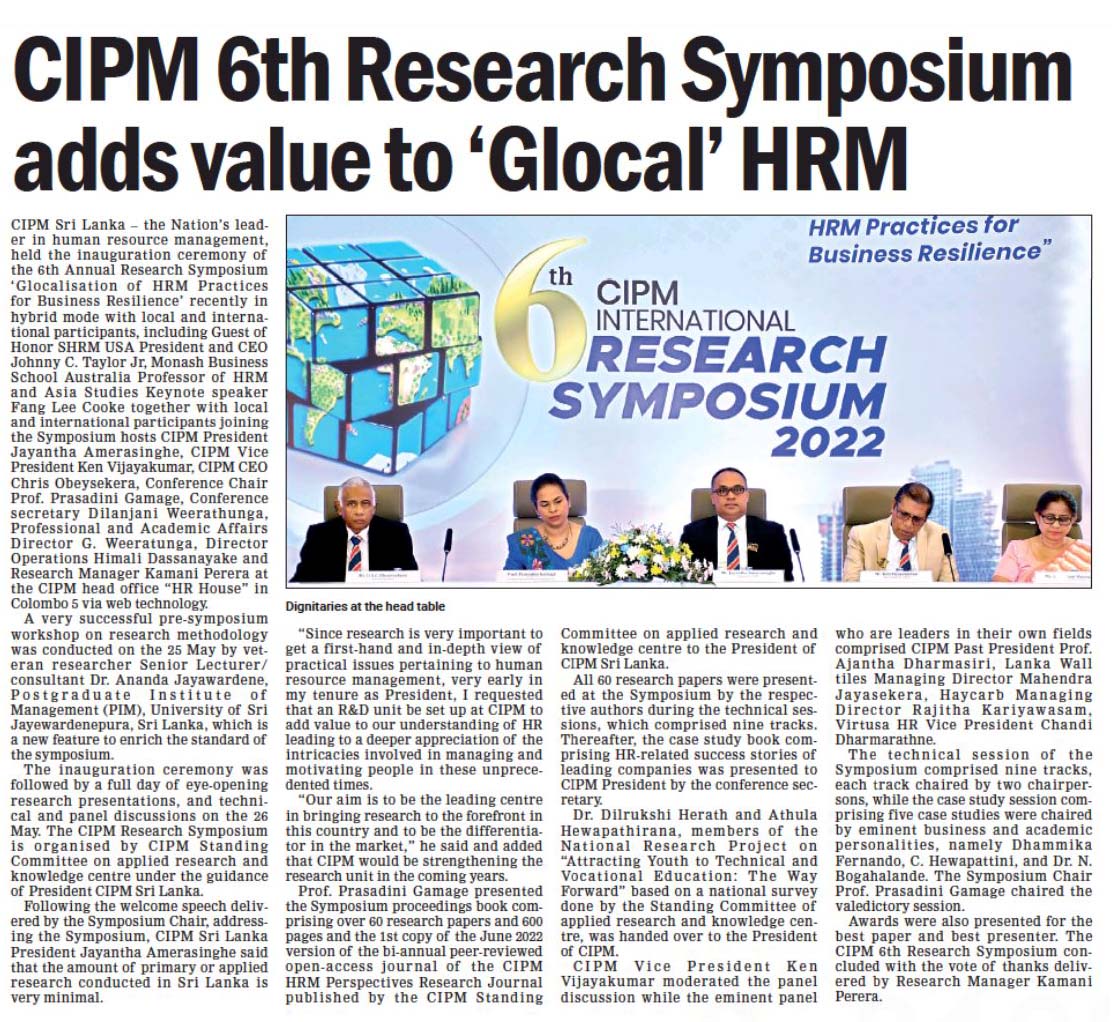 CIPM Sri Lanka – the Nation's leader in human resource management, held the inauguration ceremony of the 6th Annual Research Symposium 'Glocalization of HRM Practices for Business Resilience' on 25th and 26th May on a hybrid mode with local and international participants, including Guest of Honor Johnny C. Taylor Jr – President & CEO SHRM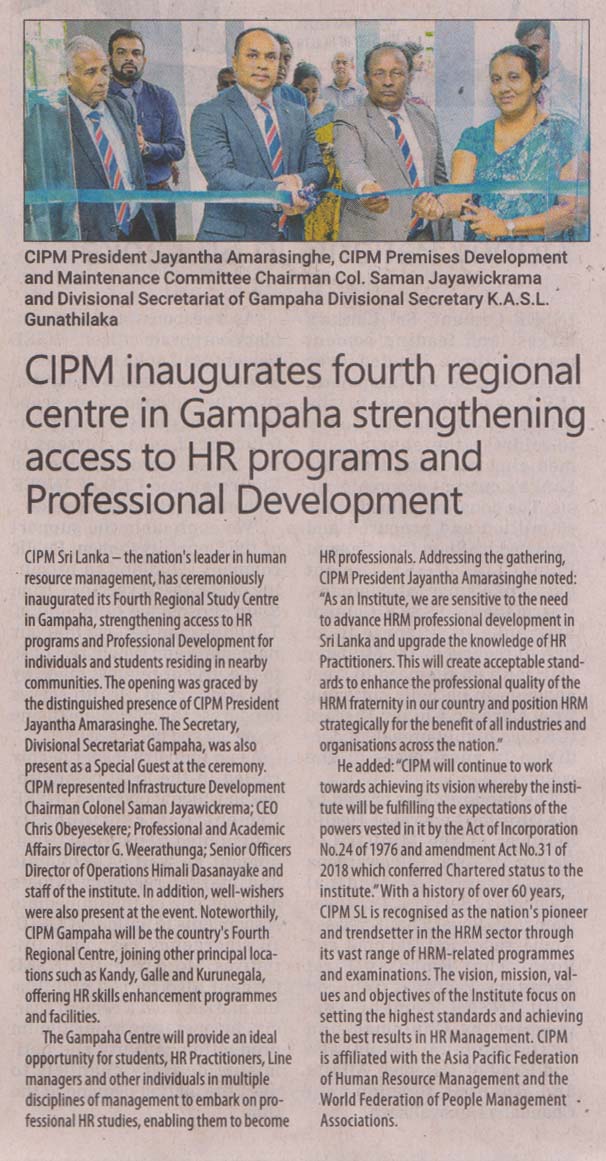 CIPM inaugurates Fourth Regional Center in Gampaha, strengthening access to HR programmes and Professional Development – Daily FT – 13.07.2022 CIPM Sri Lanka – the nation's leader in human resource management, has ceremoniously inaugurated its Fourth Regional Study Center in Gampaha, strengthening access to HR programmes and Professional Development for individuals and students residing in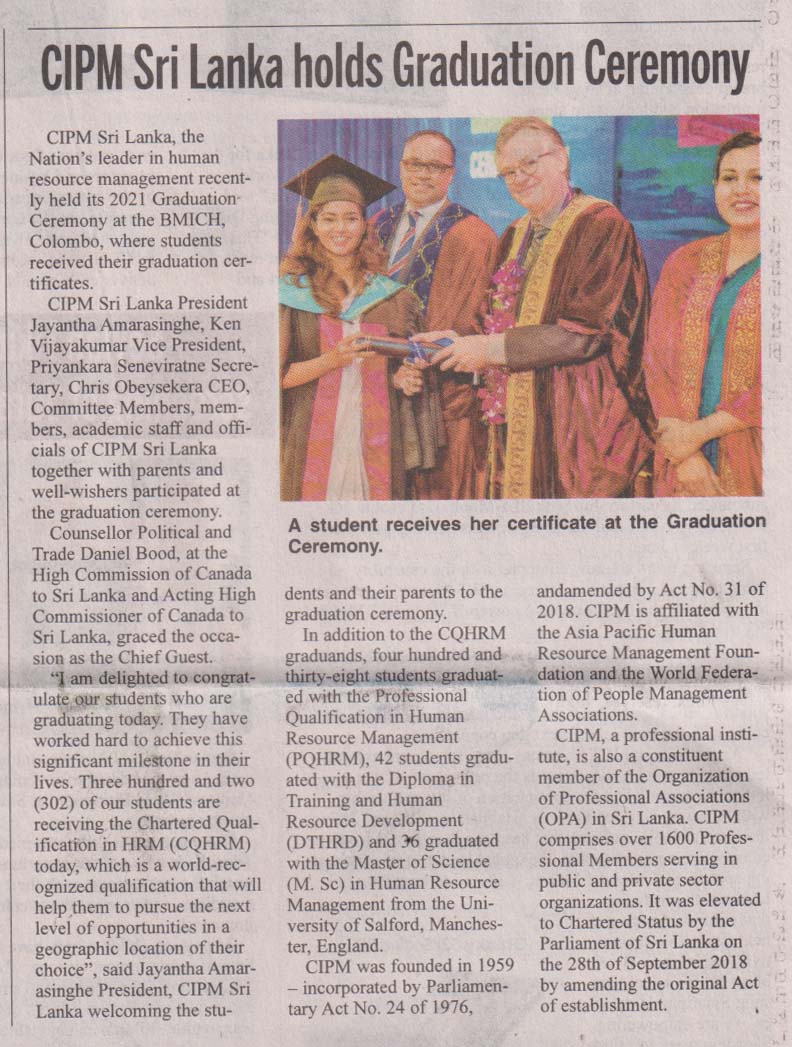 -Daily News: 05.07.2022 CIPM Sri Lanka – the Nation's leader in human resource management- recently held its 2021 Graduation Ceremony at the BMICH, Colombo, where 818 successful students received their graduation certificates. Jayantha Amarasinghe – President, CIPM Sri Lanka, Ken Vijayakumar – Vice President, Priyankara Seneviratne – Secretary, Chris Obeysekera – CEO, Committee Members, members,

Human Resource practitioners are responsible for shaping and developing Human Resource Management in an organization,for the overall development of the nation.
Head Office
Chartered Institute of Personnel Management Sri Lanka (inc)
No. 43, Vijaya Kumaranathunga Mawatha, Colombo 05. Sri Lanka
Attention !
This PDF which contains the By-Law information is locked. Please contact CIPM secretariat to get the password.
TOP