CIPM Sri Lanka – the Nation's leader in human resource management in collaboration with the Asia Pacific Federation of Human Resource Management (APFHRM) and The World Federation of People Management Associations (WFPMA) will be hosting World HR Congress2020, the world's largest HR conclave in Colombo, Sri Lanka from 6-8 July 2020 at the BMICH. Over 2,000 people management professionals and business leaders from Sri Lanka and overseas are expected to participate in this mega people management event. In addition to the main tent event, a pre-conference event on the topic of "International Knowledge Sharing by People Professionals" featuring 4 plenaries which also consists of 3 Keynote by world renowned thought leaders, 4 panel discussions, over 20 technical breakout sessions, the HR Service Providers Exhibition which runs alongside of the conference and the Grand Finale of the CIPM Great HR Debate will be part of the proceedings of the World HR Congress2020. Furthermore, three separate events by invitation only too will be held prior to and post the World HR Congress 2020. These will be the APFHRM Regional Meeting and Heads of the world People Management Institutes Meeting which consists of 93 countries in 5 continental federations which will be on 5th July 2020, and the WFPMA Board Meeting on 9th July 2020.
"WFPMA is delighted that CIPM is hosting the 2020 World Congress in Colombo, Sri Lanka. CIPM is a valued and leading member of the Asia Pacific Federation of Human Resource Management and was selected by the WFPMA Board as the host country following a robust tender process. The combination of CIPM's successful record in holding innovative and highly relevant HR congresses and Colombo's reputation as a highly attractive congress venue with excellent facilities, proved a winning combination. The World Congress enables HR professionals to build a global community of peers, to discuss new developments in HRM, and to network with colleagues from around the world who face similar complex challenges in human resource management. We are looking forward to an exciting congress and to greeting HR professionals and their management colleagues from around the world to this unique HR event and to experience this wonderful country" said Bob Morton – Secretary General, WFPMA.
"When every manager plays a "people management role", the people management professional's role evolves into a role of an internal coach, guide, policy setter and an architect of strategy adding significant value to the organization. Thus, the World HR Congress2020 is aptly themed as "Exalting People Professionals: Explore, Expand and Excel" in order to encourage, energize and enthuse people professionals in the increasingly strategic role that they play in their organizations" said Dhammika Fernando-President, CIPM Sri Lanka and Director, APFHRM.
The conclave will deliberate on the various aspects and implications of digitalization, disruption, diversity, inclusivity and happiness of people in a new world of work and life.        
"As the host country organizing this prestigious conference, our programme and agenda for the participants over the 3 days will be fully packed to freely disseminate and share knowledge, new and innovative ideas and insights. Our carefully selected speakers and panelists will delve deeply into the subject matter in order to kindle new thinking and approaches to people management, taking advantage of disruptive technology to build the better world for work and life" he added.
CIPM Sri Lanka won the opportunity to host the biennial World HR Congress in 2020 in Colombo after an intense competitive bidding and evaluation process held during the Annual Meeting of the APFHRM amongst other bidding countries in the Asia Pacific region including Australia where the World HR Congress was held successfully on 2 previous occasions, the Philippines and Thailand. Prof. Ajantha Dharmasiri – Immediate Past President CIPM Sri Lanka received the official proclamation from Peter Wilson-Chairman, WFPMA that the World HR Congress 2020 will be held in Sri Lanka at the World HR Congress 2018 held in Chicago, Illinois in USA.
CIPM Sri Lanka has appointed a high powered organizing committee led by President CIPM Sri Lanka – Dhammika Fernando (Chairman) and Immediate Past President – Prof. Ajantha Dharmasiri (Deputy Chairman) together with 8 Sub-Committees for Technical, Promotional, Sponsorships, Logistics, Secretariat, Ceremonials, Participation and Security, Health & Safety to organize the event in keeping with international convention standards.
The World HR Congress is also considered as an ideal platform for Sri Lankan HR professionals to build and develop an extensive network of peers and colleagues in the region and from across the globe for continuous exchange of knowledge and ideas even after the conclusion of the conclave.
The World HR Congress 2020 will coincide with CIPM Sri Lanka's 60th Anniversary. With many accolades earned and significant achievements over these 60 years including the most recent accolade of the award of the Chartered Status, CIPM Sri Lanka is now strengthening its role as a dynamic regional and global People Management Professional body.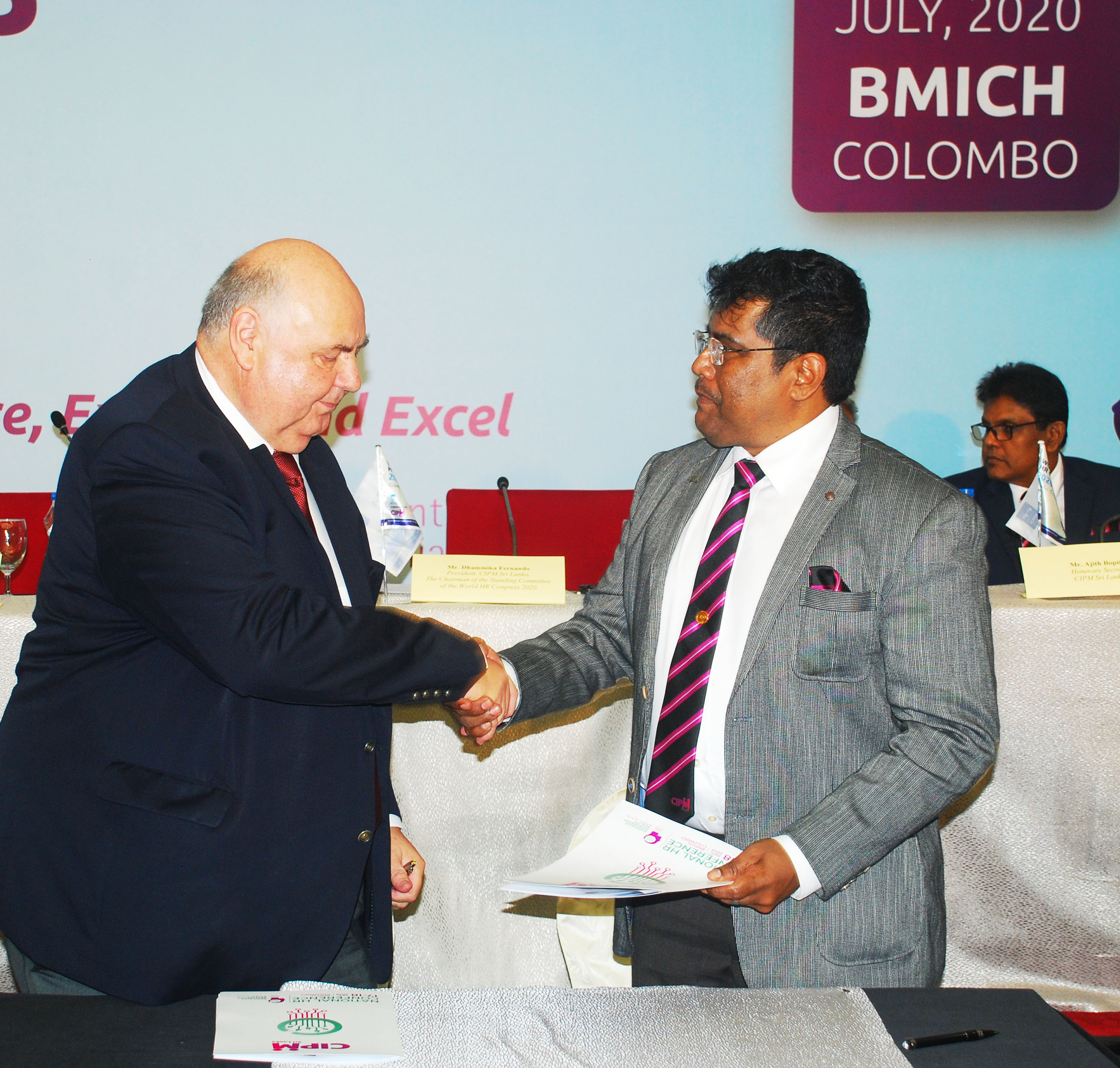 Bob Morton – Secretary General, WFPMA and Dhammika Fernando – President CIPM Sri Lanka and Director APFHRM exchanging the agreement